Add something fresh to your kitchen or give the most unique wedding or housewarming gift with our personalised Knife block!

Purchasing your Knife block is easy!
| | |
| --- | --- |
| 1 | Choisissez un designer correspondant à vos besoins. |
| 2 | Téléchargez vos photos et commencez à créer! Ajoutez votre touche personnelle grâce à nos arrière-plans et éléments de scrapbooking. |
| 3 | Once you're happy with your Knife block, save your project and proceed online to upload your order. |
Customising your Knife block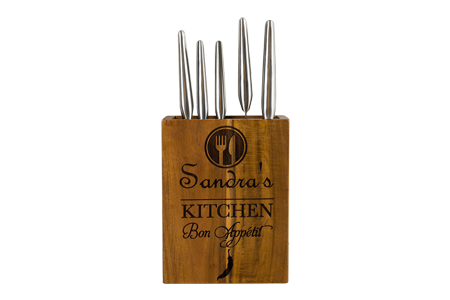 Personalise your block using any of our great layouts!
Égayez les pages grâce à notre large gamme de décorations de scrapbooking
Lorsque vous concevez votre planche, veuillez n'utiliser que du texte et des formes de couleur noire unie car le laser ne peut pas graver les nuances d'ombre, les couleurs ou les photos!
Why we LOVE our Knife Blocks!
• Bois en provenance de fournisseurs qui respectent les règles de reforestation.
• Idéal pour toutes les utilisations en cuisine car le bois d'acacia est renommé pour sa résistance à l'humidité et sa durabilité.
• Please note as all of our Knife Blocks come from Natural Acacia Hardwood, you will find the grain of the wood varies from board to board. Due to this, laser engraved text and shapes can change in contrast over the different grains.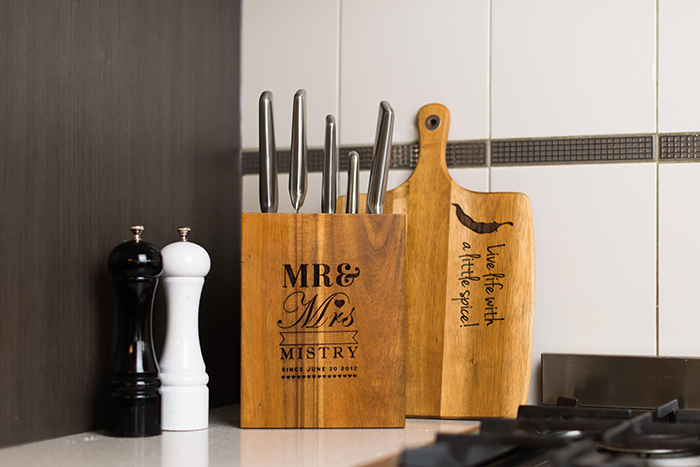 Notre Engagement Qualité

Satisfaction Garantie!

Fabriqué par une société australienne.

Magnifiques produits artisanaux.
PhotobookShop FR s'est forgé une excellente réputation auprès de ses clients en offrant une large gamme de produits fabriqués à partir de matériaux de premier choix ainsi qu'une garantie sur la qualité d'impression.
• Fabriqué en Australie avec des matériaux et une confection de la plus haute qualité
• Impression de haute qualité grâce aux toutes dernières technologies en matière d'impression
• 100% satisfaction garantie
• Production respectueuse de l'environnement
• Generally, manufacturing takes 2-7 business days. During busy periods this may take up to 14 business days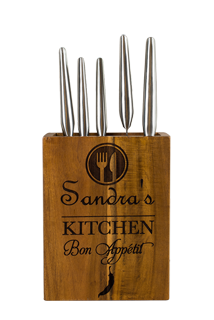 Commencez dès maintenant!